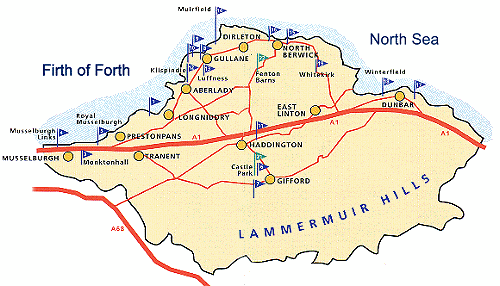 Kaimend is situated in a conservation area on the edge of the historic coastal town of North Berwick, being only three minutes walk across the famous North Berwick West Links to the beach.
Directions: The A198 enters North Berwick from East and West. From West take left at the third turning at traffic lights down Hamilton Road, Kaimend is the last house on the left hand side. From East go through North Berwick heading for Edinburgh. Just before going out of North Berwick or Direlton Avenue turn right at traffic lights down Hamilton Road, Kaimend is on the bottom on the left.
There are thirteen golf courses within twenty minutes including Muirfield, home of the 2002 British Open Championship and 2007 British Senior Open. Both Gullane and Muirfield are five minutes away making Kaimend a wonderful opportunity for a golfing holiday. There is also a golf range within 10 minutes, should you need a little practise! Below are links to all the closest courses.
Castles, museums, outstanding beaches, a distillery, boat trips to the volcanic islands (extinct!) and the Scottish Sea Bird Centre in North Berwick are all part of the reason for making a stay at Kaimend one of distinction and variety. Also you can visit Concorde at the Museum of Flight only 15 minutes away.
Edinburgh, the third most popular tourist destination in the UK, is a mere 35 minutes away by train from North Berwick station and 45 minutes by car. Edinburgh does not need an introduction either for its charm or for its international festival. Edinburgh Airport is an easy 40 minutes drive away.
There is a good selection of local restaurants nearby catering for all tastes.